Doctor's Profile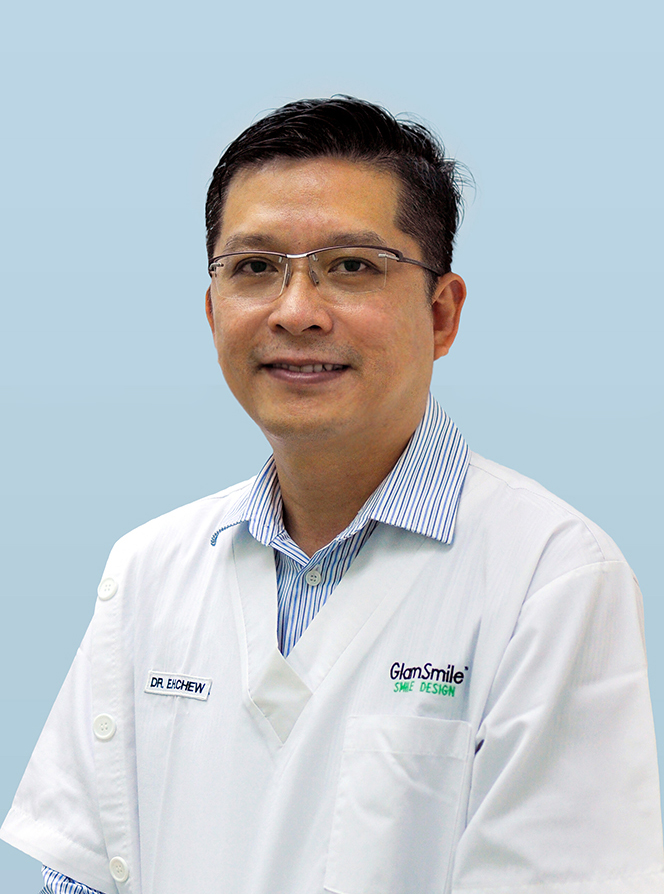 Dr. Chew Eng Hai
周荣海医生
Cosmetic Dental Specialist, Oral Implantologist
Make An Appointment
Education & Experiences
BDS(Mal), MDS(Mal), AM, 马大牙科硕士, Cert. of Implant (Bern & Harvard, USA), Fellow of ICD, ICOI, MOPA & WCLI, Member of AACD (USA), Alumni of LVI (USA)
Dr.Chew Eng Hai is a board-certified (NSR) Oral and Maxillofacial Surgeon and Dental Implantologist. He has vast experience in transforming individual Smiles. He has over 22 solid years of experiences in Cosmetic Dentistry, including GlamSmile Smile Design and Veneers, crowns and bridges, dental implants, Damon Braces System and Invisalign. His prime goal is to help patients achieve the perfect smile in order to restore their positive image and further boost their self-esteem and self-confidence.
Dr.Chew graduated from Malaysia most prestigious university, University of Malaya as top student in 1995. He then obtained his Master Degree from the same university in 2001. With full enthusiasm, he then further his knowledge from University of Berne, Switzerland and University of Harvard, Boston USA where he obtained his Certificate in Dental Implants. He also did his in-house training of Orthodontics and Cosmetic Dentistry at Las Vegas Advanced Dental Studies, USA. He is currently Fellow of the International College of Implantologist (FICOI), Fellow of International College of Dentists (FICD), Fellow of Malaysia Orthodontic Practitioners Association (FMOPA) and Member of Academy of Medicine (AM).
He is also a member of American Association of Cosmetic Dentistry (AACD) and Alumni of LVI Advanced Dental Studies (USA).
Apart from academic, Dr.Chew also very active in Association bodies to enhance Dentistry in Malaysia. He is the Founder Member of Malaysian Oral Implant Association (MOIA) in 2004. He was also Past President and Treasurer of MOIA. He is also an active member of Malaysia Dental Association (MDA), Malaysia Association of Aesthetic Dentistry (MAAD) and Malaysia Orthodontic Practitioners Association (MOPA).
Dr.Chew founded The Smile Clinic Dental Specialist Centre in 1999 and over 18 years he and his colleagues have transformed and created thousands of marvellous smiles. He is fluent in English, Malay, Mandarin, Cantonese and Hokkien dialect as well.