What are dental implants?
Dental implants are the closest you can get to healthy, natural teeth. They allow you to live the way you want to – confidently eating, smiling, laughing, talking, kissing and enjoying all of your everyday activities without worrying about your teeth.
From a technical perspective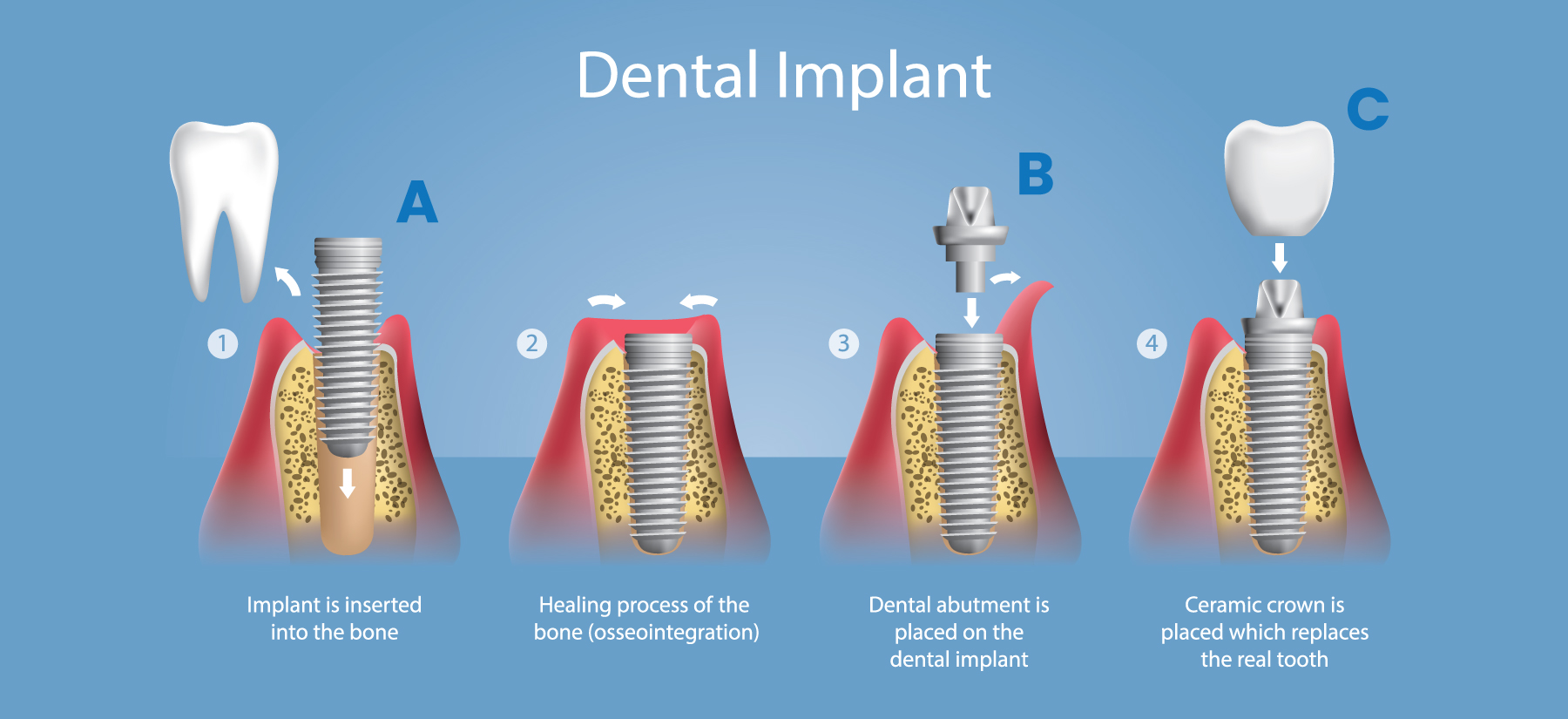 Think of dental implants as artificial tooth roots, similar in shape to screws. When dental implants are placed in your jawbone (A), they bond with your natural bone. They become a sturdy base for supporting one or more artificial teeth, called crowns.
A connector – known as an abutment (B) – is placed on top of the dental implant to hold and support your crowns. The crowns are custom-made to match your natural teeth and fit your mouth (C).
They are the strongest devices available to support replacement teeth – and even better, they allow these new teeth to feel, look and function naturally.
When performed by a trained and experienced dental implant dentist, dental implant surgery is one of the safest and most predictable procedures in dentistry.
Does it hurt?
During the dental implant procedure, there shouldn't be any pain as you will have been given anesthesia. You may feel some discomfort only after getting the implant, but it usually wears off in a week or two along with any swelling that occurs. If needed, our dentist can prescribe you with some pain medications to help with the discomfort.
How long does it take to replace teeth using dental implants?
Each patient is different. After an initial consultation, our dentist should provide you with a treatment plan including the estimated amount of time to complete the process. Total treatment time depends on your needs, medical and dental history, jawbone condition, and the technique and materials used. It can be as short as a few months, or more than a year for more complex conditions.
Pros and cons of getting implants
Pros
– They look exactly like real teeth
– Does not affect adjacent teeth
– Do not need to be removed as compared to dentures or aligners
– Lower maintenance as compared to dentures or aligners
– Last forever, even longer than natural teeth
– Surgery procedure has a high success rate
– Eat any food you would normally do with real teeth
Cons
– Expensive (high initial cost)
Can't decide?
If dental implants are within your budget, they are certainly the best option you can have to replace lost, broken or damaged teeth. In addition, our clinic provides easy, interest-free instalment plans via credit cards or you can opt for The Smile Clinic's interest-free repayment plan.
In the long run, opting for dental implants will have you spend less as compared to dentures and bridges. Dental implants give results immediately and have similar maintenance as normal teeth which is also cost effective.
At The Smile Clinic, we can help advise you further regarding implants as well as help you get them. Just give us a call or drop us a message on our Facebook Page and we will help you achieve your perfect smile.
References
Questions? Ask Us!
Visit Us
Taman Tun Dr. Ismail
No. 86, Ground Floor, Jln Burhanuddin Helmi, Taman Tun Dr. Ismail, 60000 Kuala Lumpur
The Curve
Unit 244C, 2nd Floor, Western Courtyard, The Curve, Mutiara Damansara, 47800 Petaling Jaya, Selangor